Nowadays there are so many different types of outdoor lighting solutions to choose from that it can be quite confusing to find that perfect one for your home. Don't worry, though, because we're going be covering the basics in this outdoor lighting guide as well as making some work with your exposed aggregate driveway.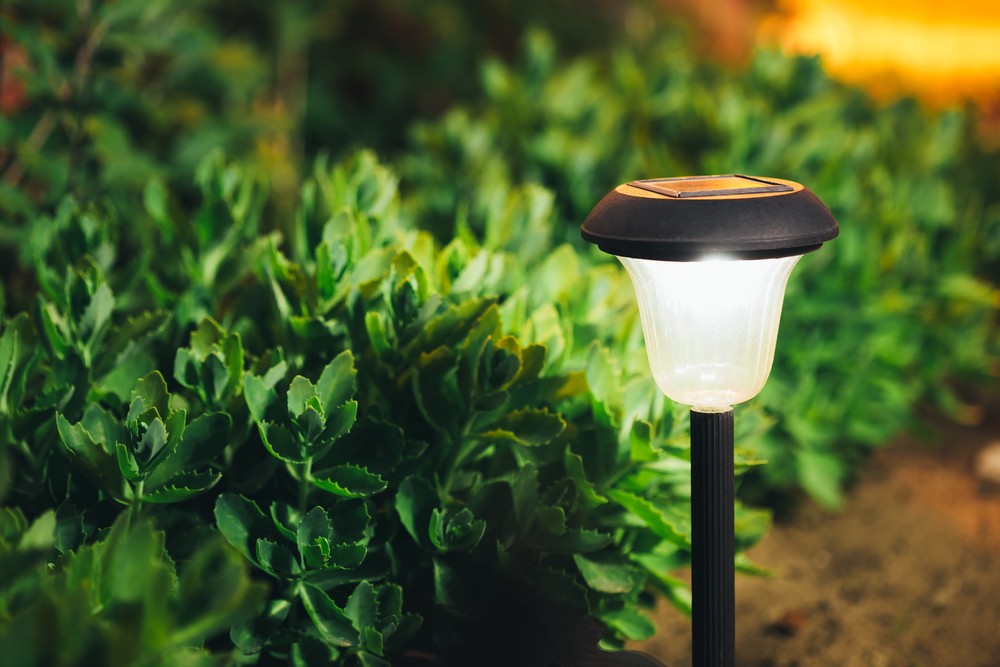 The basics
One of the key questions you're probably asking yourself is how do I power my outdoor lighting? It's a fair question as obviously water and electricity don't mix, and, with the lights and cables being outdoors, there's a pretty good chance they're going to be encountering some rain at some point. There are two ways you can power your outdoor lights – via a power point and with solar power. A lot of basic outdoor lights run off solar power and are much simpler to maintain. The key thing you should know here is IP (ingress protection) rating – which indicates an electrical products effectiveness at combatting elements (how well it's sealed against dust and water etc.).
Ensuring you have outdoor power sockets that are sufficiently designed and rated is a must as you'll need to be running power cables to them. Transformers (AC) or LED drivers (DC and only for LED lights) are needed to properly convert the current – these components go between your outdoor lights and power outlet. If you're looking at installing complex and fixed outdoor lighting features, then we recommend contacting an experienced electrician who knows all the ins and outs.
Where to place the lights
There are a plethora of locations you can set up outdoor lighting in as the limits really are your imagination. However, there are some key areas that should be considered before letting your creativity guide you completely.
Driveway and path bordering
Placing small lighting beacons along the path of your exposed aggregate driveway or even path to your front door can be highly beneficial from both an aesthetic and safety point of view. This is especially the case if you're someone who arrives home after dark – having some lights specifically positioned to help guide you (and any guests you may have over) in the dark is a great idea. Light strips may even work along the edges of your walkway for a more unique approach.
Security lights
Security lights are brilliant because they not only act as illumination for when you're returning or leaving in the evening – but also as a deterrent for criminals. They'll typically come with sensors that will automatically activate when they detect movement from a certain range – whether it's you, some friends coming over or someone unwanted. There are several styles you can purchase ranging from floodlights that illuminate an area outwards in a particular direction to standard lights that will simply light up the surrounding area.
Decorative lights
The more creative side of outdoor lighting is the relationship you forge between it and your garden. Placing small lights in your flower beds or light strips around them, submerging some in your pond or fountain (just be sure the IP rating is appropriate for long-term submergence) or just placing fairy lights around fences. Multicoloured lighting solutions will also offer fantastic opportunities that will allow you to really accentuate certain elements of your garden.
Smart lighting
Possibly the most exciting aspect of modern outdoor lighting is smart lighting. Smart lighting gives you unprecedented flexibility to truly take your garden's aesthetic to the next level. Set automations and location-based actions that will change the colour of your lighting, toggle it off and on or even adjust its glow output at certain times of the day or specifically when you leave/arrive home.
For the multi-coloured options, you'll have access to a literal rainbow of colours spanning thousands of different hues so you can find the shade that suits your application the best. Imagine having the lights bordering your exposed aggregate driveway turn on automatically shortly before you arrive home and dim or even turn off 10 minutes after you arrive? That's entirely possible with smart lighting. You can even program your lights to change in time with music during an outdoor party.
Looking for a quality exposed aggregate driveway?
A Better Driveway are experts when it comes to supplying durable and quality exposed aggregate driveway solutions in Melbourne. The magnificent range of available outdoor lighting products will only look so good if you have a premium exposed aggregate driveway to go with it – so what are you waiting for?
Get in touch with us today to find out more by calling (03) 9308 6112 or filling out the contact form on our website.