Having an exposed aggregate driveway can be brilliant for a variety of reasons. From the non-slip surface to its durability, exposed aggregate is a widely loved and used concrete style. But let's go a bit beyond the type of concrete and instead look at the applications of your driveway. The primary application of a driveway is generally as a space to park your vehicles – but there are a variety of other things that you can do on a driveway. Let's have a look at some of those, shall we?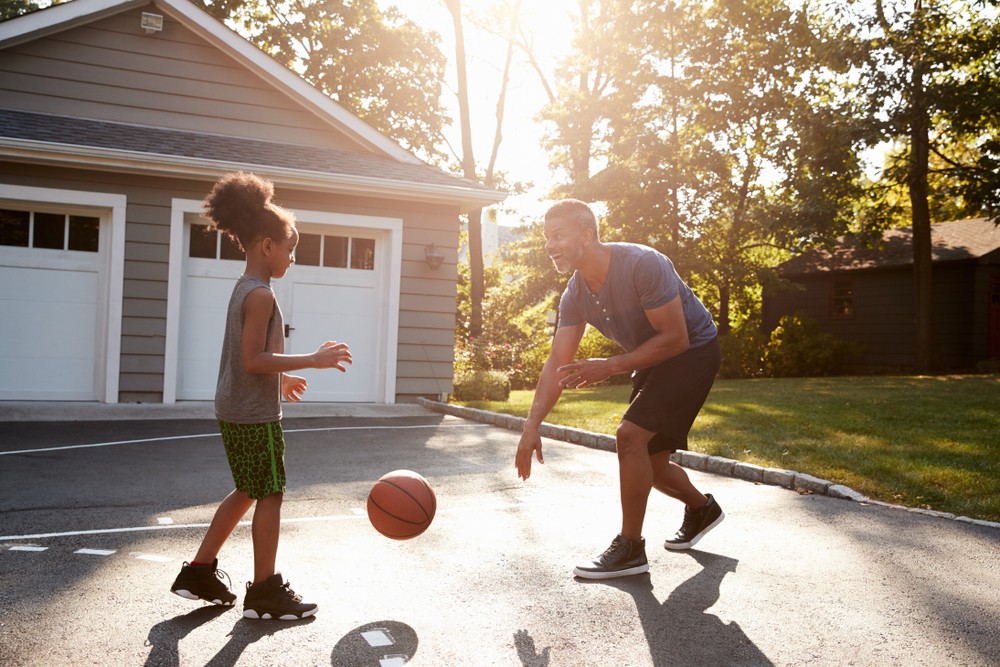 Yard sale
As explained a couple of blogs ago, a yard sale is a great way to get rid of old stuff you don't want anymore. It is also ideal for clearing up space in your house and getting the community together. If you've followed our blog on creating a balanced front yard, then you won't need to add a whole lot more to make it appeal to new customers – but there are always new and fun decorations you can temporarily add for such an event.
Basketball court
Ok, maybe not an entire court, but you can definitely add a basketball ring to your driveway. You can have a free-standing one that you can wheel around to different positions or install a ring to the top of your garage. This can encourage exercise in a fun way. It's great for both kids and adults.
Playing sport on an exposed aggregate driveway can also be advantageous as the durable and slip-resistant surface only adds further incentive to the game. However, if you do not have a gated front yard then you should be careful when playing as your driveway will most likely lead to an open street or road.
Hosting a party
You don't need an excuse to throw a party for all your friends, but with Spring coming up, you'll struggle to find an excuse not to have one. Backyard parties are tried and true, but parties in the front can be just as fun – especially during the weekend. The endless colour and style combinations you can choose from when having your exposed aggregate driveway paved can act as a great party feature as well as a talking point. Decorate your yard and set up some tables and chairs.
Start a side business
Whether you're selling home-made items like sweaters and scarves or your own blend of lemonade, your driveway is a great place to start a side business. This is an especially fantastic and profitable idea if your house is located in a busy neighbourhood that has a lot of foot traffic. You can put up signs around the area and at busy intersections to maximise your customer rate. You can also try promoting your little business online.
Another interesting way to earn some money on the side using your driveway is by renting the space out to the public to use. This is especially handy if you live near a sporting stadium, theatre or event space that regularly holds public events where parking may be scarce.
Forging memories
Your driveway can act as a great backdrop and landscape to take photos – whether they be the annual family Christmas photo or the odd extended-family photo. These are photos that will be cherished in your family throughout generations to come. Photos are a great way to also mark milestones such as your child's first or last day of school – or the school formal. The only way to make these photos better is to have a breathtaking environment to take them in such as your exposed aggregate driveway.
Do you need an exposed aggregate driveway?
An exposed aggregate driveway is more than just a reliable and durable driveway, it's a statement piece, and A Better Driveway is the company you need to bring that statement piece to your home. With years of experience, our highly trained and accommodating concrete contractors will determine exactly what you would like and work around your schedule to get the job done in a timely and professional manner.
Along with exposed aggregate concrete, we also specialise in textured and coloured concrete products and can pave all types of walkways, footpaths and pool decking as well.
If you would like to know more about our services, then please do not hesitate to give us a call on (03) 9308 6112. Alternatively, you can also fill out the enquiry form on our website.