As we move deeper into December the Christmas charm is well and truly starting to be felt. Already you can see houses completely decked out with extravagant light shows and decorations – but how's your yard going? We know how it goes, every year you want to dress up your house and embrace the festive spirit but you're not sure where to start – well, we can help you with that. Today's blog is going to be concentrating solely on how you can turn your coloured concrete driveway into a Christmas wonderland.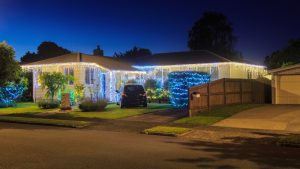 Prepare your yard
The first thing you'll want to do is make sure that your front yard is in tip-top condition. Prune your bushes, neaten up your flowerbeds and mow the lawn. Ensure that no miscellaneous objects are lying around either.
This will obviously help to improve the appeal and image of your yard – but also make it safer. If you're planning on going all out – which we absolutely think you should – then you'll want to make sure the rest of your yard is clear for when you need to navigate it.
Buy the right decorations
There's no point in purchasing something that you can't use – so make sure that you plan ahead before you go out shopping. Roughly measure the length needed for Christmas lights you're planning to hang or drape around your yard and mentally mark the spots that you'll be placing large-scale models in – such as light-up reindeers or a Santa.
When working with electrical decorations – which a lot of them probably will be – make sure that they're properly rated to withstand the elements and be left outside. Even so, you'll still have to take extra care and protect your power outlets and cables from any rain or unwanted weather – especially seeing as Melbourne can be quite temperamental.
Avoid leaving your cables on the ground if you can and instead run them over an elevated surface – whether it be a bush or along the side of a fence. This is to ensure that if it does rain, the cables won't be left in an area where water can pool up and become dangerous.
Take advantage of your natural environment
If your garden has large bushes and trees, then you can absolutely use that to your advantage. Hang tinsel and lights around them to turn them into real-life Christmas trees. You can even sprinkle a bit of fake snow around them – but the clean-up can be a bit difficult.
If your coloured concrete driveway is a bold colour, then you can match it to some of your decorations in a contrasting manner to add some depth to your little wonderland. Decorations such as fake lanterns can also look great when hanging from branches – just be sure to not use real flames as that can cause some unwanted issues.
Grouping
You should've already had a rough idea of where you'd want to position things before going out to purchase decorations – but sometimes you just see something that you have to have, and it can alter your original plans a little. This is why you should always plan the layout of your decorations to have sufficient space in between them. We also recommend selecting one-three "centrepieces" that you can work the rest of your decorations around.
You should aim to highlight these centrepieces to ensure that they stand out and draw the most attention. An example of this would be a large light-up sled and reindeer piece with smaller snowmen around it and lights hanging above. It's not just about size, but also making sure that the other decorations don't clash.
Try not to clutter your garden too much – however, as then it can just become a mess. On Halloween, it might have been acceptable to just place objects randomly around your garden – but with Christmas, you should take a bit more care and finesse when planning placement.
Try grouping Santa's little helpers in one section and snowmen in another – or mix it up if you want but try to stick to little grouped sections instead of random placements. This will also make the garden easier to navigate when you have to do maintenance.
Looking for a coloured concrete driveway?
Here at A Better Driveway, we excel at custom driveways. From coloured concrete to textured and exposed aggregate – we've got all your driveway needs covered. Our experienced and professional contractors will be able to help you with whatever queries or concerns you may have.
So, if you're looking at getting a coloured concrete driveway done before Christmas hits, then give us a call on (03) 9308 6112. You may also contact us through the enquiry form on our website.