Renovating your outdoor area or driveway is a great way to add street appeal to your home and prepare for the upcoming entertainment season. We've come up with a few ways you can add instant appeal to your concrete driveway, from a simple tidy-up, to decorative features, right through to driveway redesign. Read on for our 5 top concrete driveway renovation tips.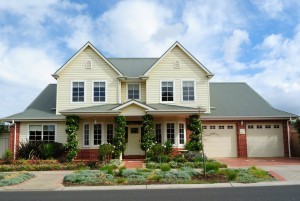 Give your concrete driveway a spring clean
A quick and easy way to give new life to your tired old driveway is by giving it a spring clean-up. Remove any weeds that may be growing alongside or in-between cracks in your driveway and be sure to remove any oil stains with either a strong detergent and a scrubbing brush, or a commercial degreaser for tougher stains. Finally, hose down your concrete driveway with a high pressure cleaner to remove any remaining dirt or debris.
Add some greenery
Make the entrance to your home more inviting by adding a touch of greenery. When choosing plants to line your driveway, take into account the size they will grow to, as you do not want anything that could cause a potential obstruction or limit visibility. It's also a good idea to choose drought tolerant plants, as concrete driveways can reflect a lot of heat during the summer months. Choose shrubs, such as Italian cypress, perennial plants or even a simple lawn to soften your driveway and add dimension.
Light it up
Lining your driveway with decorative lights is not only a great way add aesthetic appeal to the front of your home, it's also a great way to guide visitors to the entrance. There are a number of outdoor lighting options available, including in-ground guiding lights, energy saving sensor lights (which are also great for home security), attractive post lights, and even colourful lanterns.
Invest in driveway accessories
While many households dress up their driveways for special occasions such as Christmas or Halloween, there are plenty of decorative features that you can use to add character to your driveway all year round. Consider lining your driveway with attractive stones or pebbles, installing a water feature, or, if your driveway is encapsulated by a wall, consider a striking feature mural.
Update the finish of your concrete driveway
If you're looking to make a dramatic change to the outward appearance of your home, why not upgrade your concrete driveway with a complete resurfacing. With many striking finishes to choose from, such as exposed aggregate, textured concrete and coloured concrete, a feature driveway will bring new life to your home's exterior.
A Better Driveway offer a wide range of decorative concrete solutions to transform your driveway. Enquire about our specialty exposed aggregate driveways today on 03 5783 4746.