Retro and antique design trends have been a source of inspiration for interior designers and architects since time immemorial. And although many landscaping designs encompass elements of older trends, you rarely come across a garden that is explicitly inspired by a bygone era. This week, we look at four retro landscaping trends which are begging to be given a 2017 revival.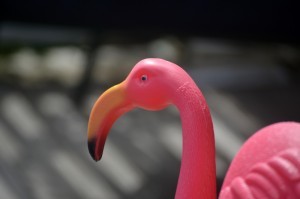 The 1900s-rambling country garden
Edwardian gardeners in the late 19th and early 20th century was preoccupied with creasing garden landscaped which struck a balance between the structural and the natural. Garden landscapes in this era were planned in geometric patterns with straight paths, clipped hedges, terraces, pergolas and sunken gardens. It was in the garden beds that the contrasting organic shapes were created with heritage flowers and fruits which were allowed to run wild and self-seed. Because you're not working against the natural inclination of plants to spread and grow, this style of garden is relatively low maintenance. This trend also favours the creation of natural 'rooms' rather than a lawn space which saves on water and creates plenty of quiet, private garden nooks.
The 1920s-leisurely social garden
In the 1920s, the concept of having a perfectly manicured yard to impress the neighbours with first took hold. Yards in this era were unfenced with sprawling green lawns which were bordered by colourful perennials. A growing interest in the outdoors and leisure meant these open spaces were used for socialising and sports such as lawn bowls, croquet and golf putting. The idea of attracting nature to your yard also took hold during this period, with fish ponds, bird baths and feeders.
The 1950s-kitsch garden
The idea of having a garden for show reached fever pitch in the 1950s and having a well-maintained landscape was part of the image of domestic bliss and affluence which people aspired to during this period. Large, showy flowers like roses lined manicured lawns and eye catching plastic ornaments such as flamingos and garden gnomes were also popular. Although designing a garden after this style in 2017 would be considered kitsch, accenting a garden with quirky elements or bold plant colours is a great way to add a little personality to your landscape.
The natural gardening movement of the 1970s
In the 1970s, people became increasingly disenfranchised with the post war obsession with consumerism and this combined with a growing environmental awareness created an obsession with returning to nature. In garden landscaping, this manifested in the form of a fascination with self-sufficiency, so in the 1970s garden, a vegetable patch, herb garden, fruit trees, or a chicken coop were common sights. This rustic aesthetic was also reflected in the use of raw or natural finish hardscaping elements such as untreated wood and exposed aggregate concrete.