Pantone's colour of the year for 2017 is 'Greenery', and whilst we covered the ins and outs of introducing last years' pastel tones into your home, working this bright, lush shade of green into your existing décor is a whole different kettle of fish. This week, we run through five simple ways you can bring a little Greenery into your life, without having to paint a feature wall.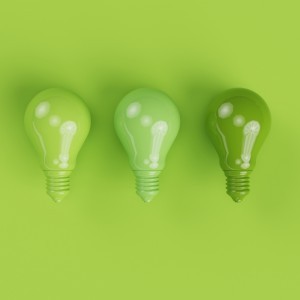 Ornamental glassware
Green glass looks fantastic when it catches the light, and chances are you already have some green glassware in the back of a cupboard somewhere. This trend looks best when you mix and match colours and tones, so an eclectic mix of thrifted pieces are ideal.
Actual greenery
It would be remiss of us to write a blog about Pantone's Greenery without mentioning the indoor plant phenomenon currently gripping the interior design world. Aim for varieties which have a sharp, citrusy colouring such as staghorn, ferns or palms and steer clear of darker foliage like fiddle leaf figs which have had their moment.
Linen and textiles
Green is a very practical colour for interior design that wears well and looks beautiful in textiles, particularly when there are different tones mixed in together. Update your living or dining area instantly by investing in a green patterned rug or create a calm and serene vibe in your bedroom with naturel linen bedding in mixed tones of jade, emerald and teal.
Upholstery
Green velvet couches are a vintage classic and they look fantastic in many different inerior colour palettes. In fact, retro furniture stores are full of green toned furniture so you may be able to find the perfect accent piece for a fraction of what you would normally pay.
Crystals
Play up the earthy vibes of green with some green agate crystal slices propped up against the window sill to catch some light or use them as quirky drink coasters. Malachite print is also quickly becoming a major interior trend so keep your eye out for this rich, mineral texture.
A Better Driveway are the specialists when it comes to coloured concrete driveways in Melbourne. If you want to take your love of green to the next level, a coloured concrete driveway is the perfect way to accent your outdoor area. To learn more about our capabilities, please don't hesitate to get in touch with us by calling 03 5783 4746,