You don't need to undertake a full on renovation in order to increase the value of your home. Increasing the overall value of your property can be as simple as sprucing up your front yard. A front yard makeover is a fantastic way to add to the street appeal of your home, so here are 5 easy ways to get your home's exterior in tip-top shape.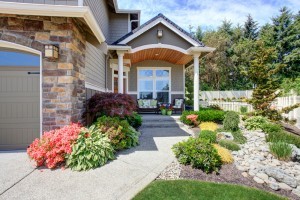 A fresh coat of paint
It's amazing what a fresh coat of paint can do! Before painting your home's exterior, do some research on which colour palettes will complement your home's existing features. Neutral colours like cream and off-white, light blue, blue-grey, and light beige are always safe options, and will instantly brighten up your home's façade.
Add some greenery
Plants are a great way to make your home seem more inviting, and there are many ways you can incorporate greenery into your front yard. A lush green lawn will add instant street appeal, as will native shrubs, trees and bushes. If you have limited planting space, there are still plenty ways to integrate greenery into your front yard. Get inventive with planter boxes, hanging plants and even plants in hessian sacks.
Fancy Fencing
A feature fence at the front of your property will not only set your house apart from the rest of the street and create a visual focal point, it will also increase the privacy and security of your property, which is a big selling point for most home buyers.
Make your front door a feature
A welcoming front door is another great way to make your home stand out from the street. Paint your door a bold colour, frame it with pot plants, or, if you really want to make an impact, invest in some striking double French doors. It's also a good idea to include your house number on the door so that it is clearly visible from the street.
Update your concrete driveway
Nothing detracts from your home's street appeal like an old, tired driveway. By installing a new driveway in a striking finish such as exposed aggregate, coloured concrete, or textured concrete, you will add new life to your home's front yard and increase its value.
A Better Driveway design and install concrete driveways in Melbourne, and will come up with the perfect driveway to complement your home's design and increase its street appeal.