Everyone knows that a well designed yard can expand the living space of your home, boost the value of your property, and lift the appearance of a house. Unfortunately, knowing the value of good landscaping and successfully executing it in your own backyard are two different things. Many homeowners make the same kinds of mistakes when landscaping their yard and in this article, we look at how you can avoid making them.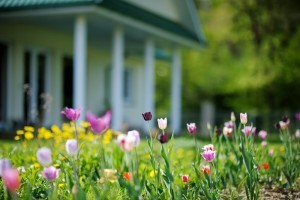 Lack of planning and forethought
When it comes to planning and executing a stylish and sustainable garden landscape, putting some forethought into what you want to plant and where is crucial. To achieve a lush, balanced looking garden, you need to put careful consideration into planting to suit the contours of your garden. Without proper planting planning, you'll end up with a patchy looking garden of mismatched plants with different heights and clashing colours.
Ignoring the natural features of your garden
Instead of trying to shape your landscape to suit your preconceived ideas of what your garden should look like, try taking the opposite approach. Try working with the natural features of your yard and using them to inform your garden design. Traditional landscaping 'problems' like rocky soil or heavy shade can be capitalised upon to create a unique outdoor space with a little imagination.
Failing to think trans seasonally
Even if you don't spend as much time outdoors during the cooler months, your garden is on display all year round, so it's crucial that your landscape can adapt to the changing seasons. The key to achieving this is research and planning to ensure your garden has a mixture of perennials and annuals that provide colour all year round.
Going for the obvious
Just because everyone else has a lawn and a rock ringed water feature, doesn't mean you have to. Just like with interiors, the best garden designs are those that are adapted to suit the existing landscape and makes a statement about the personal tastes od the owner. Relying on the latest design trends to make a statement in your garden is not sustainable in the long term, and means your garden will just blend into suburbia.
Not keeping up appearances
At the end of the day, the key to having a stylish garden is regular maintenance. Weeding, pruning, removing dead plants, and regularly tending to both garden beds and hardscaping features.
A Better Driveway are concrete landscaping specialists and offer a range of decorative hardscaping solutions for Melbourne home owners. To learn more about our capabilities, please don't hesitate to get in touch by calling 03 5783 4746.